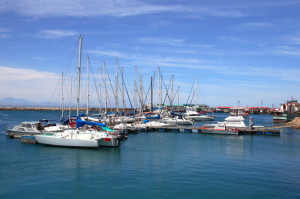 The MBYBC's marina is located in the Port of Mossel Bay which is the smallest of the commercial Ports along the South African coast. It is situated halfway between Cape Town and Port Elizabeth at 34°10'44.96″ S | 22°8'28.11″ E. The marina provides 50 walk-on moorings to both members and visitors. All moorings are equipped with fresh water supply and 230 V / 10 A electrical supply. There are three different moorings available, the biggest are suitable for yachts of an overall length up to and including 15 m.
Mooring Plan

Approach
Welcome to the Mossel Bay Yacht and Boat Club! Please get in touch with us before entering the MBYBC moorings, either via the contact form or call the Rear-Commodore Moorings: 044-6911097 (Meike). She will gladly help you with an available mooring and further information.
Arrival and Docking
On arrival in Mossel Bay, call Transnet Port Control on channel 12 to inform them of your intentions to enter the MBYBC moorings. Please make use of the moorings layout in order to find the berth allocated to you in advance. Please do not occupy any other open berth you come upon, as they are privately owned.
Please note: MBYBC doesn't take any responsibility for any damage or disaster resulting from using the moorings.
Booking In
Make your yacht comfortable and safe and yourself familiar with the mooring by-laws. Then please report to the club office during business hours:
| | |
| --- | --- |
|  Monday: | 8 am – 3 pm |
|  Tuesday to Friday: | 8 am – 4 pm |
|  Saturday: | 8 am – 1 pm |
Daily Rentals Fees for Non Members
Visiting yachts (if a mooring space is available) may stay for the first 24 hours without charge. Visitors are required to settle all outstanding balances with the MBYBC before departure.
A-Mooring
Boat Length < 8 m / 26 ft
B-Mooring
Boat Length < 11m / 36 ft
C-Mooring
Boat Length < 15 m / 49 ft