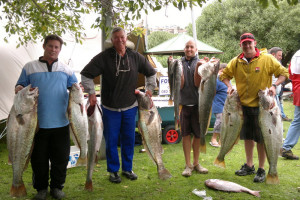 "How does one define a MBYBC boating member?" Well the answer is quite simple, all boating members have one thing in common … and that is that they all believe that "a day spent on the water is much better than a day spent on land!"
The Boating (and Angling) section of MBYBC consists of the members who operate powered water crafts from the MBYBC club grounds. Not only does the club offer a safe and well-kept slip, it also boasts a wash bay and secure parking facilities for your boat and trailer within the club grounds.
As a boating member, you have access to the pristine waters of Mossel Bay, and on your return you can share stories of the day while enjoying the atmosphere at the Bar or under the trees while your fire is getting the party started. For those with a competitive spirit you can take part in the annual deepsea angling competitions which run on a regular basis which is always a source of fun. Clearly the range of boating activities is endless and one can pick and choose to your heart's desire. 
Requirements to operate and launch watercraft/s @MBYBC
Before launching

Both boats and Jet Ski's are required to sign the launch register before heading out to sea. The register can be found next to the Office Manager's door (outside). The register must be completed in full with all details required entered.



Jet Ski

Since the law changed in 2007 and was implemented from March 2009 all vessels are regulated by SAMSA (South African Marine Safety Authority) as follows:

Any vessel from 15hp or greater must comply with safety regulations and have the applicable skippers ticket

You must have a Certificate of Fitness (COF) for your craft – RENEWED ANNUALLY through an appointed agent.




You must have a Certificate of Competence (COC) for you the skipper. The COC is obtainable through a SAMSA authorised agent and does not need to be renewed annually but you can upgrade to a higher certificate.




You must have a buoyancy certificate for your craft (minimum 30% buoyancy issued by SAMSA appointed agents)




The regulations are policed and enforced by SAMSA agents and the water wing police and you will be checked at clubs and launch sites

To use a Jetski at sea: Just like any other craft your Jetski category will depend on its construction (must be over 3 metres) and you must have the relevant safety equipment for that category

Boating

Most vessels that launch from MBYBC fall within the following 3 categories:

Category C (15 nautical miles)

Category D (Operating less than 5 Nautical Miles from shore)

Category E (Operating not more than 1 Nautical Mile from shore)

Please remember: Although your skippers ticket might give you permission to fish at 15 nautical miles, if you have a boat in REGISTERED in Category D YOU MAY ONLY FISH IN WATERS WITHIN 5 NAUTICAL MILES.

You must have a Certificate of Fitness (COF) for your craft – RENEWED ANNUALLY through an appointed agent

You must have a Certificate of Competence (COC) for you the skipper. The COC is obtainable through a SAMSA authorised agent and does not need to be renewed annually but you can upgrade to a higher certificate.




You must have a buoyancy certificate for your craft (minimum 30% buoyancy issued by SAMSA appointed agents)

The regulations are policed and enforced by SAMSA agents and the water wing police and you will be checked at clubs and launch sites