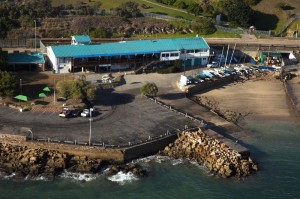 The Mossel Bay Yacht and Boat Club, a Non-Profit Organisation (159-631 NPO), is situated in the Western Cape at 22°8'28.11″ E and 34°10'44.96″ S, and is bordered on the one side by the Mossel Bay Harbour and on the opposite side by the stunning Santos Beach which has a Blue Flag rating. Due to the fact that our Club is north facing, the views from our deck overlooking the bay and the Outeniqua Mountains are breathtakingly beautiful.
The weather in Mossel Bay is claimed to be the second mildest in the world with only Hawaii reportedly experiencing more sun shine days than us. The MBYBC is the heart of the water sport fraternity, and  caters for the sailing, boating, diving and sea kayaking fraternity.
We have approximately 560 members who enjoy the following facilities:
Walk-on moorings

Some of the best sailing conditions found in South Africa – Many local & national championships are held here

Development sailing school. The MBYBC has an excellent sailing school which caters for the upliftment of the Town's youth who would like to take part in this sport

The best slipway in the Garden Route area for the boating and fishing community

Free Wi-Fi connection available
The diving section has access to five reefs in the area, the best being a shore entry reef situated only 30 meters away from the MBYBC

The kayaking section experience some incredible sightings of Southern Right whales in winter and year round and they have encounters with dolphins, seals and the occasional turtle

The Café on the Bay Restaurant which caters for members as well as visiting yachtsmen, as well as functions, parties and weddings

First class braai & lapa facilities for the members and visiting yachtsmen
Every Wednesday evening Bingo is played and on Friday evenings the majority of the members hold their main social event where live music and lucky draws take place at the MBYBC.
Our aim is to promote sport in all the different disciplines and at the same time to do it in an environmentally friendly manner so that we can pass on a legacy of sportsmanship, friendship and a love of the environment to our future generations and to grow our club from strength to strength.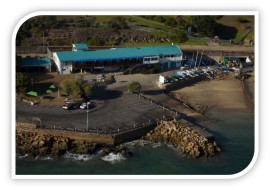 The 2016/2017 season has been one of very mixed emotions. High on everyone's thoughts is obviously the situation with the lease. This is ongoing and is currently in a legal process so not too much can be said but I will expand a bit later in this report. The club is growing, during this season 89 new members joined the even with the lease cloud hanging over the club. This brings our membership to 617 paid up members. The sporting sections have been very active with provincial, national and world championships taking place from the club as well as regular pool leagues.
Details