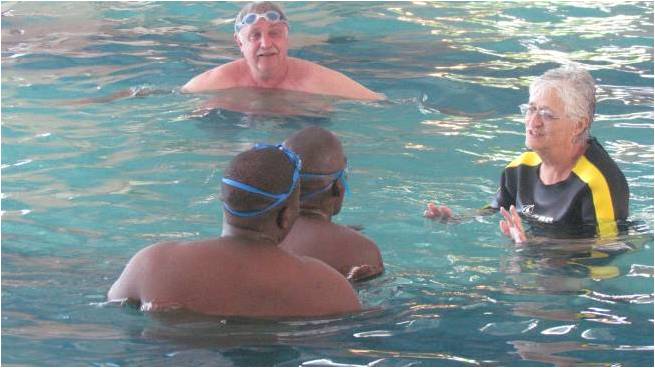 Conditions were not very favourable for diving this month. The only action that took place was the continued training on the Development side. I have been doing this since January this year & we have been training twice a week on Mondays and Wednesdays at the Hartenbos heated Swimming Pool.
We will stop with pool sessions on Wednesday, as it is now getting to the stage where I need to take our students to start learning to swim in the sea. This will start in November; we will train at Santos beach.
I have approached my son Geoff, who is a qualified PADI Instructor to carry out the final Scuba training next year. Geoff has agreed and so he will be training Ricky, Abu, Rasta, Maggie and Tanya round about March. In the mean time I will try and get more members involved.
  Work on the Eden District Disaster Management proposal, which set up a Marine working group to deal with stranded marine life on beaches in and around Mossel Bay with all possible role players is continuing and as soon as the protocol is finalised, I will forward to all Rear Commodores & Club. For more info see The Mossel Bay Advertiser on page 22 published on the 18th September 2015.
Enrico who is in charge of the Shark section of above has been approached with regard to the problem white shark at the Point as well as all the relevant authorities. As soon as I have feedback, I will let all know of what has been suggested.
Mike Keet
Rear Commodore Diving / MBYBC