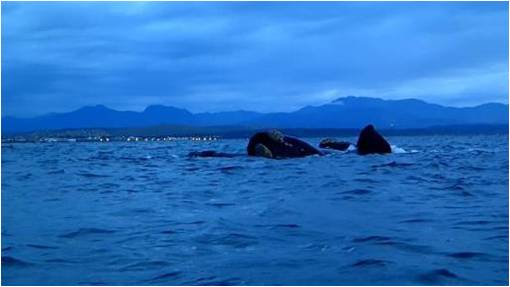 On an early Tuesday morning, before work, a small group of enthusiastic MBYBC sea kayak – paddlers left with one double and one single kayak on our normal 6km paddle to Diaz and back. I know Mitch reef intimately and in the semi darkness we paddled in the direction of Seal Island to avoid the surf at Mitch and Ding Dang. I thought I heard whale sounds. Later I heard what sounded like waves against the Island far ahead and thought that I must have misheard the whale earlier.  Suddenly I found myself in the midst of lots of splashing whales, breaching and tails waving. In the breaking dawn, we could see a pod of six whales.
Respecting their privacy we made way and headed back to the Yacht Club. The photos were taken while trying to out -paddle the pod of whales that was all around us. I decided to stay on my own on the water a bit longer as I often do when my friends had to go out to work. I saw one very active whale with what looked like a rope round its side fin and a small buoy in its wake. I paddled with a burst of speed behind it to be able to positively confirm the presence of a rope to avoid calling out the NSRI on a false alarm so early before working hours. Luckily there was no rope attached to the whale.
Any one is welcome to join us, we have kayaks, paddles and life jackets, just come with a costume, top and a wind breaker.
Danie Smit