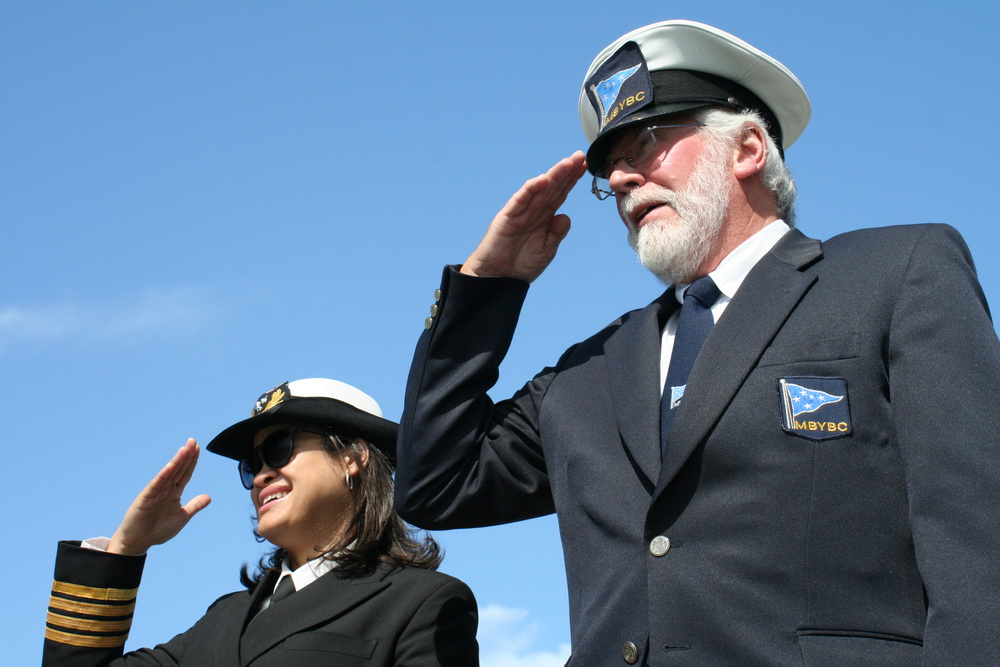 13 September 2015, early morning: How will the weather going to be? Do we have the flag dressing handy? Is the yacht neat and tidy? How many others will attend to the sail past? – It is always the same … attending to the opening cruise feels like unwrapping a big birthday present. Maybe not for the grey sea bears anymore, but for newbie's like us, especially if it is the very first time with our  own keelboat "Therese".
Unfortunately the wind wasn't on our side. It blew with around 21 knots from SE, and because of we can't reef or furl, we decided to just set the jib instead of setting full sails – no need to be ashamed, the crews from the other (and bigger) yachts  just set the jibs, too. Only the crews from the dinghies and catamarans and the crew from "Julie 3" were so brave hearted and set full sails – well done, guys and girls!
At the skippers meeting at noon we got the instructions how to sail, what to do and when to start, and the vibe was amazing! The plan was to sail past the club in a nice column at 2 pm and to greet the harbor captain and the club's commodore and – of course – all the club members, their families and friends who attended to the Opening Cruise from the shoreline.
So many people on the water, so many different ages, so many different dinghies, boats and yachts, from single-handed ones to big yachts like "Zap" or "MoonShadow" – not to be forgotten the speed boats and the paddlers! And in the background the tug "Pacific Askari" showing us an amazing presentation of the power of her fire-extinguishers.
The official part of the sail past ended in a good water bomb battle, of which we tried to stay away, but still … the others got us, too. No chance to hide and stay dry! But hey, it is just water … not a train smash!
The day ended after a good meal consisting of snacks and cakes, sponsored by the club members, and with a draught beer on the deck of the MBYBC clubhouse, with stunning views over the bay. Just keep in mind: The next Opening Cruise will be in 2016 – so come and join us!