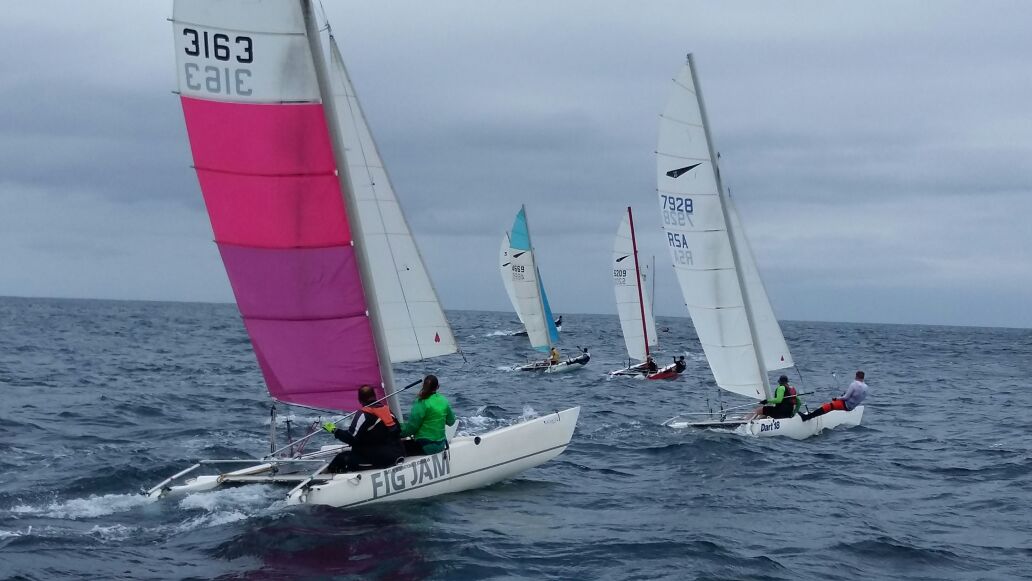 Over the past weekend the Dart 18 Western Cape Championships were held. Though the 10 boats were mostly local sailors we had sailors come down from Gauteng and the Eastern Cape. The Saturdays racing consisted of short "round the barrel" racing, even though the sailors had to wait for wind the Mossel Bay sea breeze did not disappoint with a breeze of 15 to 18 knots from the South. The race committee got 5 races in that included some extreme capsizes and unfortunately boat breakages. By the end of the Day Tammy Holden and Gerhard van Niekerk were leading with point score of 6, Daleen Naude and Pieter De Villiers in second with Chris van Zyl and Dewan van Niekerk in third.
The Sunday racing was a long haul, where the sailors raced around the oil rig and back to the yacht club. The race started in a light South Wester and climbed to around 12 knots. The race ended with major tension as the top two boats for the race had a close battle in the end however the leaders Tammy Holden and Gerhard van Niekerk pulled though with Marc von Schultz and Joppie Naude closely in second.
Thank you to all who helped with the event namely, Norman and Gail Frost, Peter Nilssen and Yuliya Nilssen, Wilhelm von Schutz and Clive Sweeney.