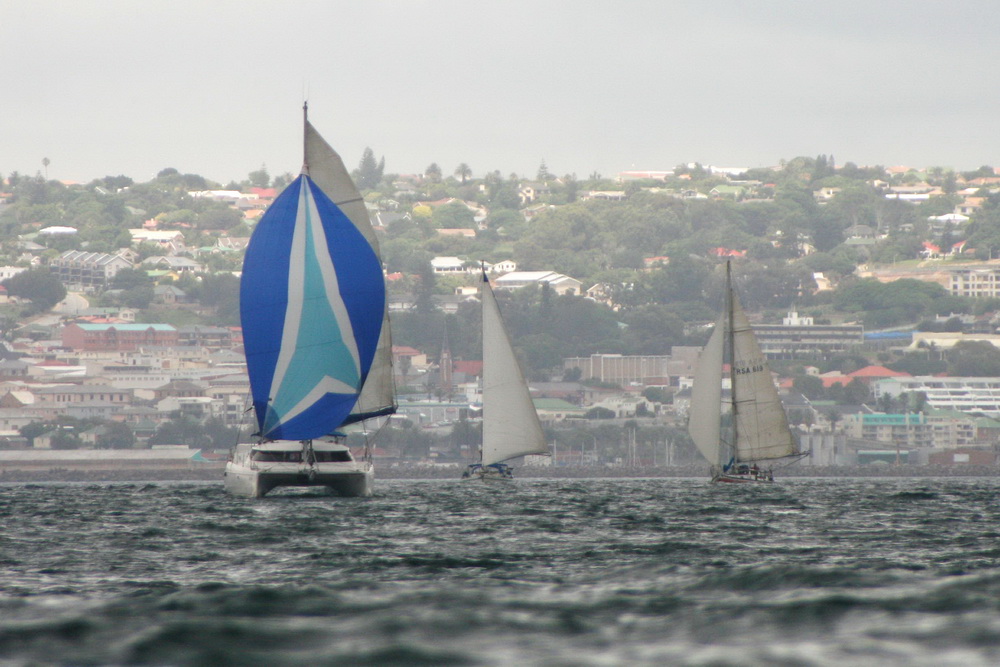 What a great day of sailing! The rig race was started by Nelia at 11:20 am, and with 10 to 15 knots of nice south-westerly wind a fleet of 7 yachts started, accompanied by the catamaran Juffa, owned by Caroline & Bill from the UK, which are on a trip around the world at present.
On the downwind course Parental Guidance became 1st very fast, followed by Julie 3. Therese and Mega Motion fought about the 3rd place, but were both overtaken by Juffa directly at the rig.
The following close hauled course back to the club was full of challenges: The wind picked up to 25 knots in gusts, and we had to sail against a short, fast wave. Not sure about the others, but the crew of Therese was soppy within minutes.
Just a few minutes after rounding the rig, Mega Motion had problems, needed to take the sails down and struggled with starting the outboarder. Luckily Orpa was close by and towed her back to the moorings.
The results are as following:
Yes, guys, Parental Guidance came in first! Well done, well done! Amazing what a clean hull can wreak.    🙂
Julie 3 … so fast and so beautiful with the spinnaker! Surely also because of the lady helm on board!
Therese. Danish yacht + German sailors + lots of splash water + good wind = great fun!
Ipithombi – very hard working today, but with a great result!
Zap – also very hard working today – also a great result!
The laurels should be given to Wihelm and his Orpa today because of they rescued Robin and his Mega Motion. Because of Wilhelm's great assistance nothing more serious happened.
And a very special THANK YOU to Nelia who took the time for us! Much appreciated!
(Author: Meike Prenzel)