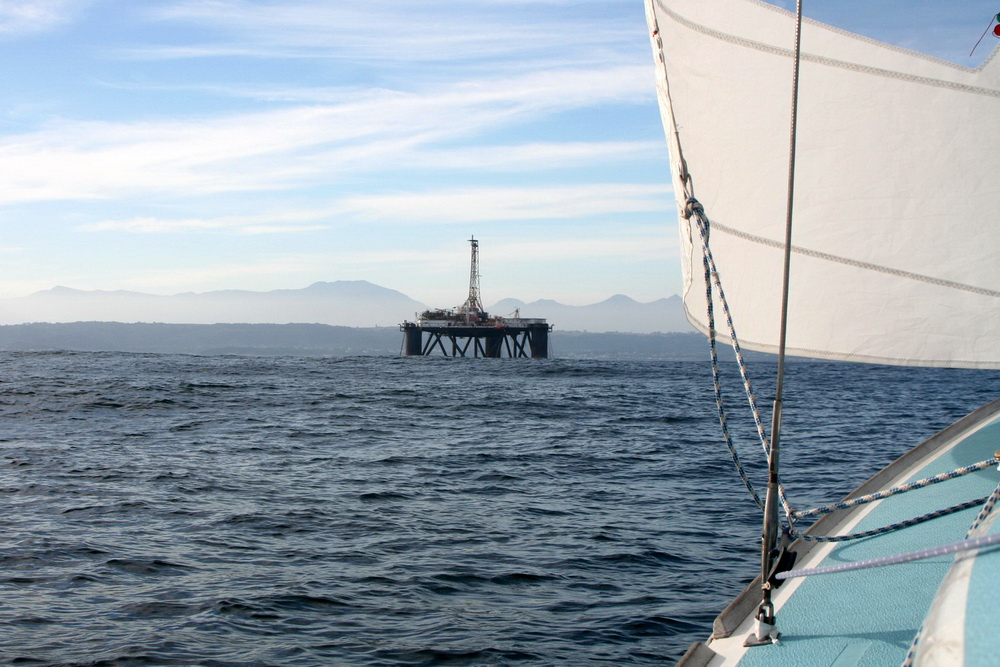 On Sunday the 14 of June Mossel Bay Yacht and Boat club saw a sight that has been missing for a while. Five Keelboats joined in a race to sail around the newly acquired Oil Rig in the Bay, joining them were two Dart 18's and our 420 ISAF Youth Worlds team.
The race started with a slow pace at around 5 knots and the girls on the 420 took an early lead.  The waves built and as we got to the rig they were quite substantial and pushing us towards the Orca. Pieter de Villiers and Johan and Judy van Rooyen had an excellent down wind leg with there spinnaker flying the whole time. They reached the rig first and started the home journey upwind. To see the rig up and close was something amazing, here in the middle of the ocean this gigantic three (not four as we all thought) legged table stood. Steady and stable among the big waves with housing and cranes and people on it. We all went around it waving but in silent awe at the enormity of what we saw.
The journey back was against the wind and all sails were pulled in tight and concentration to keep the boats as high as possible to make the finish line with ease. However as we got closer to land the more the boats where headed of course and we realized a tack will have to be put in. Trying to keep our momentum we tacked at the last moment to get to the finish line. However "Therese" of Martin and Meike Prenzel got the keelboat line honours and "Ellen" of Rob and Elfie Holden had to be happy with second place. In the beach boat division Chris van Zyl and his crew crossed the line first. The corrected time results are still outstanding and will be released on a later date.