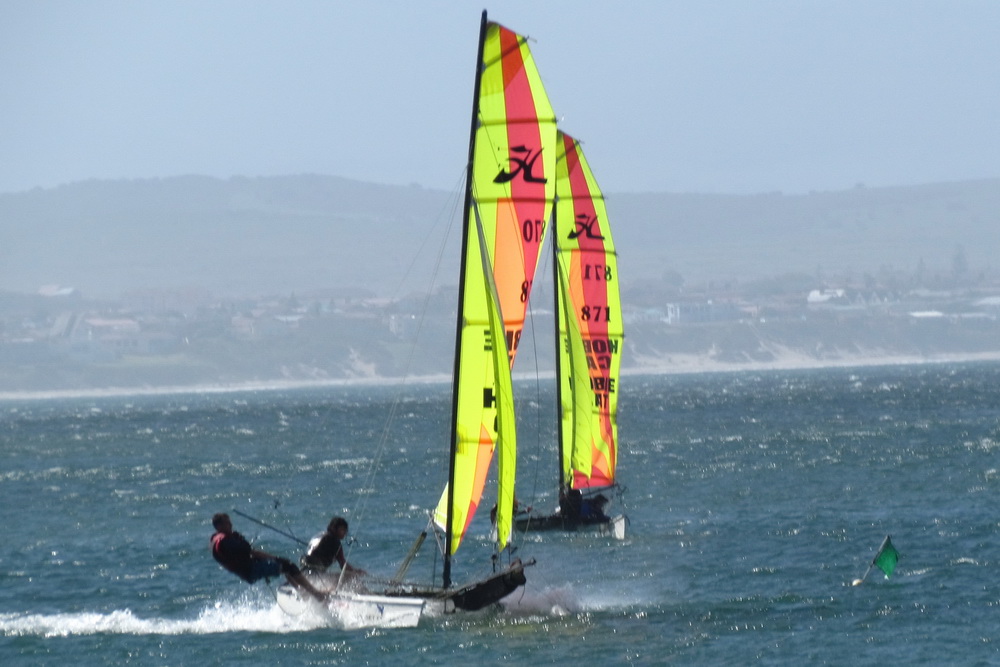 Sailing has had quite a busy month kicking off with match racing on the 29th of March. We used 2 Hobie dragoons and divided 20 sailors up in 10 teams and two fleets. Piet Smit and his crew Marco Moolman from Sao Bras ended first in the gold fleet. Second were Tammy Holden with a double crew, Meghann Naudé and Abigail Sweeney. This was a rather special team in that Abigail is only 11 and Meghann is only 7 years old. In the silver fleet Joppie Naudé and Marc von Schutz ended 1st with Juan du Plessis and Reawon ending second. Reawon is also in Sao Bras and both he and Marco Moolman are training at the Garden Route Sailing academy as part of our sailing development initiative.
On the 30th of March we had our normal club league competition in the form of around the buoy racing. This took place on flat water with a very nice south easterly breeze of about 12 knots. We had 10 boats on the water with Chris and Meghann Naudé sailing a Dart and taking line honours in two of the four races but losing out after the handicap was brought into the equation. Joppie Naudé and Anke van Rooyen took 1st place on the day.
The big news of this month is that Megan Robertson represented South Africa in Italy along with two South African boys. They sailed Byte CII class boats in a regatta that served as the qualifier for the Youth Olympics to be held in China in October this year. The great news is that Megan has qualified to represent South Africa in China. This is a wonderful opportunity and we will be holding thumbs for a great result in October. Presently Megan is in Algeria sailing the African championships on a Laser 4.7.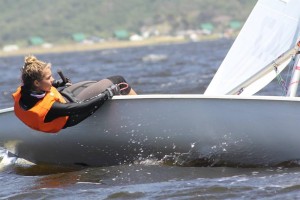 The MBYBC had three teams taking part at the fourth in a series of four Western Cape dinghy grand slams that was hosted by the False Bay yacht club. The national championship was held at the same time for the 420, 29er and Laser classes. Joppie Naudé and his helm Andre Bredenlamp took 6th place with Anke van Rooyen and Lea Smit in 11th place with Anke at the helm. There were 15 boats in the 420 fleet.  Both teams sailed 420's. Tammy Holden at the helm with crew member Sanmarie Fourie sailed in the 29er fleet and ended 8th in a 14 boat fleet. Wind and sea conditions were extreme and tested our sailors to the limits. They did however do very well and I want to use this opportunity to congratulate all our sailors who represented the MBYBC so ably.
Club racing was cancelled on the 12th and 13th of April due to absolutely no wind. Racing was also cancelled on the 26th due to extreme weather conditions. We did however race on the 27th in the form of a semi long haul to the Klein Brak river mouth and around Seal Island back to the club. We had a steady 14 knots easterly wind. Six catamarans started out and ended as follows: Pieter de Villiers and Daleen Naudé on a Mosquito ended first followed by Chris and his brother Francois van Zyl and Chris and Meghann Naude sailing Dart 18's in second and third respectively. Divvie de Villiers and George Dannhauser ended fourth sailing a Cobra. This proved a very exiting adrenalin rush that will be difficult to equal. I would like to encourage more sailors to take part and experience the fun.
Our season will end early in June and then we will take a bit of a rest during the cold months. We will officially be back on the water early in September just after the official opening cruise. There are of course some sailors who will be sailing socially during winter and I would like to invite anybody who so wishes to join in. You are more than welcome.
Finally I think members should take a look at the Youtube video. Watch this amazing video clip of Tammy Holden and Sanmarie Fourie taken during a training session in our beautiful bay. This is truly special and worth a look.
Fair winds,   Chris Naudé, Rear Commodore Sailing, MBYBC
---