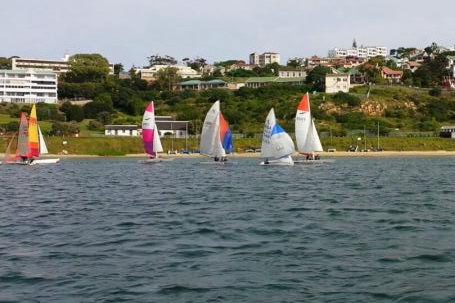 The last few weeks has been fairly quiet on the sailing scene as far  as regattas are concerned. I can however report on our club league.
Club sailing  on the 10th of May. A training session was held and Tammy and Sanmarie, Anke and Lea, Marco and Martin and Meike Prenzel were on the water and Rob Holden was coaching them.  An invigorating 15 knot north westerly was blowing. On the 11th we had  a 11 knot north westerly and we had 8 boats on the water. We had a beach start and sailed twice around the island.
Also in May Elfie and Daleen held a course to train assistant coaches. Eleven of our junior sailors attended the course. These assistant coaches will help on Wednesdays to train youngsters taking part in the open to all sail coaching initiative.
Sailing was cancelled on the 17th of May due to weather conditions. On the 18th we had a very nice easterly wind of approximately 8 knots. We had 7 boats on the water and a lot of fun was had by all.
Fair winds!     Chris Naudé, Rear Commodore Sailing, MBYBC

---