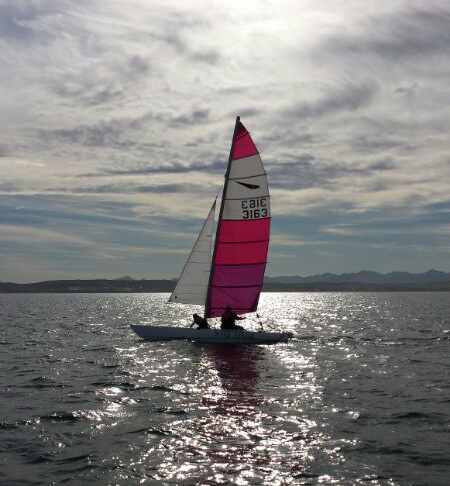 The sailing section has had two club league sailing weekends in November. Wind conditions are slowly settling into the normal pattern for this time of year. Steady easterly winds bode well for this summer holiday season. We look forward to long lazy summer days spent sailing and socializing at the club.
There have been no regattas in the past month but we are sending a team of sailors and their boats to the 2nd regatta in the Southern Charter Grand Slam series that is being held at the Theewaterskloof Sports Klub on the 6th and 7th of  December. At this stage there is still some uncertainty as to how many boats will be going but we are aiming for 15.
The sailing school is ticking along nicely with 80 kids receiving free training on Wednesdays with approximately half that number being children drawn from previously disadvantaged communities. Sailing on other days has been quiet due to children writing exams.
The Garden Route Sailing Academy has put together a tem of sailors who are in training to attend the worlds in Japan for the 420 class, Topper worlds in Italy and 29'er worlds in Wales. All these events will be held in July and August 2015 respectively.
We will be having our usual fixed summer season events in December which include the annual around the Island race on the 26th of December and the Wild challenge on new years day in January 2015.
So come on guys, get those forgotten boats out and sail them this summer. We showed what we could do during the Bart's Bash, now let us build on that.
Fair winds and following seas
Regards
Chris Naude
MBYBC Rear Commodore Sailing