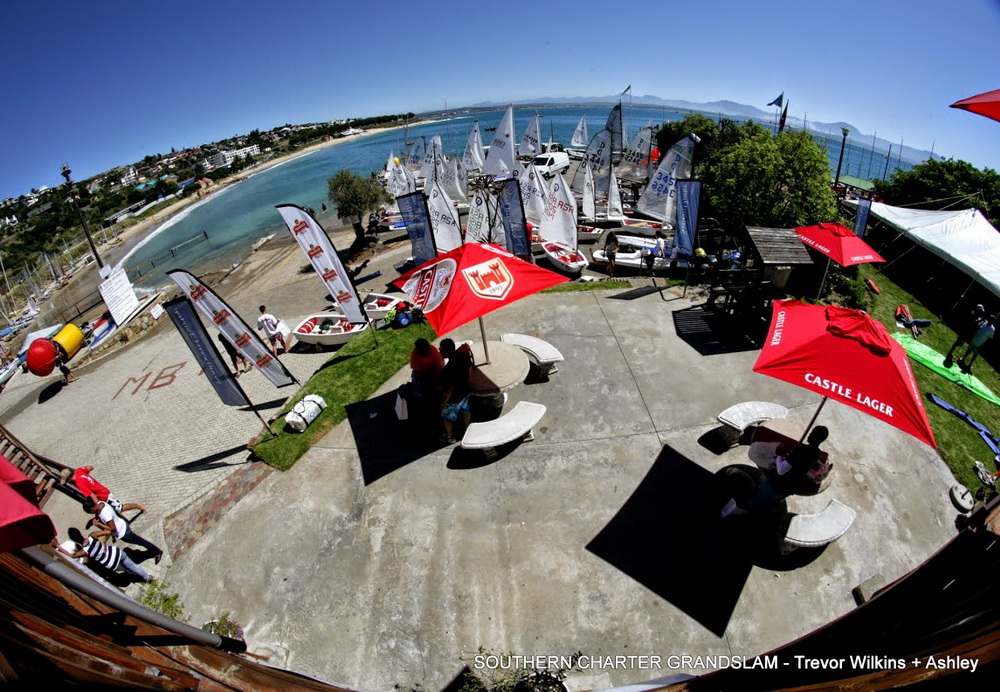 The sailing season started off with a huge regatta that was held at the MBYBC during the weekend of the 4th to the 6th of October. Weather conditions were excellent for sailing and sailors were severely tested on day one when they experienced fairly strong wind made worse by rough seas and big swells. Day two was better all round with day three seeing sailing cancelled due to a lack of wind. The regatta was part of the Southern Charter, four event grand slam and was considered a huge success by all concerned. The next venue is Theewaterskloof on 6th and 7th December 2014 followed by Hermanus on 31st December 2014 to 1st of January 2015 and the final event at False Bay Yacht Club 3rd to 6th of April 2015.
Our club league was held on the 18th and 19th of October. We had around the can sailing on that Saturday and match racing on Toppers and Qubas on the Sunday.  The Sunday sailing saw strong winds and our junior sailors showing the Seniors what sailing a dinghy is all about. Yours truly disgracing himself in style by going out on a little plastic thinghy with too much sail area and then not being able to come back on his own. Thank goodness for Schalk van Bosch on rescue duty who took me back to shore.  The match racing was won by Tammy Holden and Joppie Naudé taking second spot
On the 25th and 26th of October a team of MBYBC sailors took part in regional interclub regatta at the George Lakes Yacht club at island lake close to Wilderness.  Our senior sailors finished second in a field of five participating clubs and our juniors secured third place.  Congratulations to Karlien van der Bank who was the MBYBC's top placed sailor and her parents Kobus and Dina grabbing 5th spot in the senior fleet. Anke van Rooyen and Lea Smit ended 9yh, Megan Robertson 10th and Tammy Holden and Sanmarie Fourie 13th. Well done to all our sailors.
Our team included 6 developement sailors Alexay Ibrahim, Elandre Oosthuizen and Keanan Kiewiet, as well as Ivano Botha took part in the junior fleet and Reawon October and Marco Lee Moolman in the senior fleet.
Daleen Naudé attended a level 2 sail coaching course, run by Rob Holden at Theewaters kloof. Six people took part in the course and all of them succeeded in becoming level 2 coaches.
Fair winds
Chris Naudé
MBYBC Rear Commodore Sailing
Many thanks to Trevor Wilkins for the support of the following photos: